Do you own a business or business complex that is in need of business cleaning services?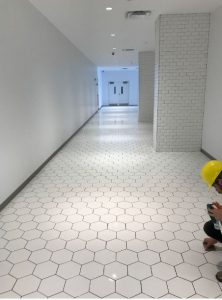 If so, you're in the right place! At Maximum Cleaning Service we have over twenty years of experience providing a wide variety of cleaning services including business cleaning services, spring cleaning, one time cleaning, move in and move out cleaning, commercial cleaning, residential cleaning, and more.
As part of our business cleaning services we will provide start to finish services that leaves your business looking clean and spotless. Whether it's time for a deep clean or you want to sign up for regular cleaning services, we provide customized schedules to provide the level of cleaning you need. We can come to your business on a daily, weekly, bi-monthly, monthly, or customized basis.
When you hire our company, we'll always work around you. You'll never have to worry about our professional staff getting in the way of your employees, your clients, or your customers. We'll come on a schedule that works for you.
What will we take care of as part of our cleaning services? A little bit of everything! We'll vacuum, mop, maintain wax flooring, clean countertops and desk surfaces, sanitize the kitchen and breakroom areas, and make sure your bathrooms are spotless. We'll empty trash cans, take out recycling, and leave your business looking cleaner than it ever has. With our crew, you won't have to worry about walking back in to work in the morning to a messy environment or trash that still needs to be taken out. It'll be perfectly cleaned, every time.
Every time the Maximum Cleaning Services crew comes to provide business cleaning services, you can be confident that your business will look great. We will always bring our own cleaning supplies from disinfectant solution to mops, rags, and brooms. Never be without a clean office building again thanks to our five-star business cleaning services.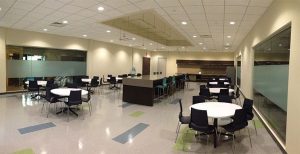 A business always needs to be kept clean at all times. If you're looking for a business cleaning service in New Jersey that will deliver beyond your expectations, you can count on our professionalism. Since launching operations, we've always been at the forefront as the best business cleaning New Jersey service that serves both small and large business enterprises. Cleaning takes a lot of time and can eat into your valuable business time. Instead of spending too much time and effort on cleaning your business, we take care of everything on your behalf. A lot of customers believe in our ability to deal with any kind of project aside from the fact we offer the most affordable business cleaning cost.
New Jersey has numerous businesses that require diverse cleaning programs. We can easily adapt to any kind of project since our vast business experience has helped us to clean different types of businesses. We take business cleaning seriously because we know the consequences of having a dirty business. Since our inception, we have expanded continuously as many business owners are satisfied with our level of service and professionalism. Aside from being a top house business cleaning services New Jersey provider, we also deal with commercial enterprises cleaning them thoroughly until they're completely spotless.
Not hiring a professional business cleaning provider is detrimental for your business as dirt creates a bad impression especially for customers who come to your business to seek services. The good news, however, is we have a wide network of cleaners across New Jersey. If you're looking for the best business cleaning near me, you don't need to hesitate using our services as our reviews speak highly of the quality of services we offer. Our happy New Jersey clients keep coming back as they know we are a trusted partner.
Our well-trained and qualified New Jersey business cleaning staff responds promptly to every cleaning request. In addition, our business cleaning quote is customized and depends on your individual business needs. Call us today and let our business cleaning New Jersey personnel take charge of cleaning your business as you focus on the core revenue-generating activities.